NEVIDLJIVI POMOČNIK
POKROV ZA BAZEN TERRA ™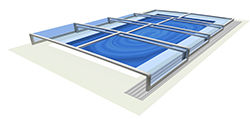 As the only company who sell this model of enclosure we offer long-term active after-sales service of our pool and patio enclosures. Enjoy a comprehensive range of benefits that no other manufacturer can offer.
TERRA je najniži bazenski pokrov iz Alukov asortimana proizvoda koji gotovo kopira tlo. U zatvorenom položaju omogućuje uživanje u punom pogledu na Vaš vrt i bazen. Dok je otvoren bazen je pristojan, a ne prostorna zahtjevna konstrukcija koja odgovara arhitekturi moderne kuće. Oni koji traže gotovo neotuđivo konstrukciju, a ipak žele imati vidljive prednosti u zatvorenom prostoru za bazen kao što su zaštita vode od lišća, regulacija temperature vode i zaštita onih koji ne žele pasti u bazen, cijenit će ovaj bazenski pokrov.
Sistem klizanja sa vodilicom samo na jedni strani pokrov Terra omogućuje pristup bez barijera s tri strane bazena. Tako je sav prostor okolo bazena pametan i jednostavan za održavanje. Vrlo je lako otvoriti ili zatvoriti konstrukciju - čak i s jednom vodilicom. To je standard za sve bazene Alukov krovova - najviša sigurnost, po mjeri izrađena konstrukcija za svaki bazen. Isto možete očekivati od modela Terra.
Krov za bazenu Terra - stavite svoj bazen pod kontrolu i pustite da se krov Terra uklopi u vaš vrt!
Color of construction
| | | | | | |
| --- | --- | --- | --- | --- | --- |
| | | | | | |
| Silver | White | Antracit | Antique Brown | Cobalt | Wood imitation |
Other colors according to customer
Color of polycarbonate
Color of sliding rails