IZGLED "BEZ VODILICA"
POKROV ZA BAZEN RIVIERA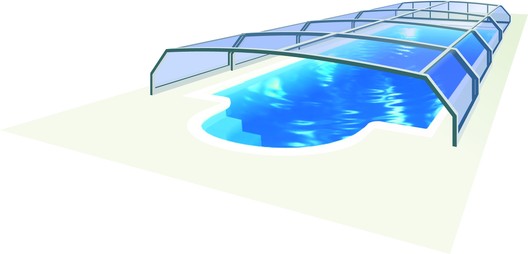 As the only company who sell this model of enclosure we offer long-term active after-sales service of our pool and patio enclosures. Enjoy a comprehensive range of benefits that no other manufacturer can offer.
Niste sigurni da imate teleskopski krov za vodilicama? Riviera konstrukcija krova za bazen ima istu kvalitetu i konstrukcijski dizajn kao i Oceanic low model s iznimkom da za razliku od Oceanic, Riviera radi na kotačima, a ne na vodilicama. U Alukovu imamo rješenje za svakog kupca! Želite li iskustvo unutarnjeg bazena bez s tim povezanih troškova?
Osjećate se frustrirano što vam vrijeme ne dopušta da koristite svoj prekrasni vanjski bazen onoliko često koliko želite? Postoji vrlo elegantna alternativa. Topli bazen Vanjski bazen zatvoren bazenskim pokrovom Riviera uživat ćete u prednostima toplije vode, kristalno čistog bazena slobodnog od otpalog lišća i insekata i velikog okruženja u kojem možete udobno iskoristiti svoj ponos i radost.
Stil u očuvanju okoline Izrađeni po narudžbi, Riviera bazenski pokrovi mogu se izraditi u više boja, od sjajnog bijelog do 'drvenog efekta', savršeno prikladnog za bazene s drvenim podovima oko njih. Dostupne su različite visine Svi naši konstrukcije omogućuju korištenje bazena dok su zatvoreni.
Od 'niskih' krovovi za bazene koja vam omogućuju da plivate i ostanete topli bez obzira na vremenske prilike do 'visokih' krovovi za bazene koja omogućuju udobno sjedenje i zabavu uz bazen. Ima nešto za svakoga.
Boja konstrukcije
| | | | | | |
| --- | --- | --- | --- | --- | --- |
| | | | | | |
| Srebro | Bijela | Antracit | Antikna smeđa | Kobalt | Imitacija drva |
Ostale boje prema kupcu
Boja polikarbonata
Boja kliznih tračnica